Course History
Grandview is York's oldest public golf course and was York's only public course until the early 1950's.
1920
The original nine holes of the golf course and the basic current club house were built as a private club.
1933
The club entered into bankruptcy as a result of the depression. Grandview was then purchased by the Waring Family which included Fred (a nationally known band and choral director), Tom (his brother) and two sister's, Dolly and Helen. Mrs. Martin (Helen) operated the golf course for fifty years. The HWM, which is incorporated into the present logotype, is dedicated to her memory, Helen Waring Martin.
1935
The final nine holes were added–Grandview was now a complete eighteen-hole golf course.
1984
After fifty years of contribution to the golfing community, Mrs. Martin sold the Grandview Golf Club to a group of golfer/investors and Grandview, Inc. was born, operating as Grandview Golf Course and Banquet Center.
1999
Marked the completion of a massive remodeling program that resulted in a new Tap-In Pub and Grille … an enlarged Pro Shop … improved rest room facilities … and a kitchen fully equipped to accommodate banquets for groups up to one hundred.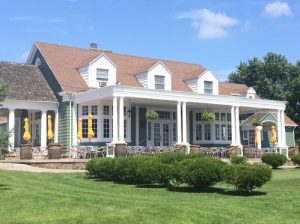 2016
Grandview Golf Course is celebrating its 96th Birthday and completed a huge renovation and face lift.  We have brought in a new restaurant to our golf course.  Brewvino is an upscale restaurant and bar offering the public a place to dine.  Enjoy our beautiful patios overlooking the beauty of the golf course.  Come out and enjoy a round of golf and dine with your friends!